Photos: Aleks B | Words: Nathan Kumar
Stephen Wassef from Acquired Taste owns this tastefully modified Lancer EVO 8, the 'less is more' approach has done him and his ride a lot of justice as this may be one of the cleanest looking EVO 8's rolling around the streets of Sydney.
The famous 4g63 power plant that lays between the strut towers benefits from an upgraded fuel pump to 255lph Walbro item whilst 1000cc injectors keep its thirst quenched with blasts of E85 when required and a Trust exhaust emits the throaty note that all EVO owners and admirers know all to well. All for a healthy and respectable 240kW at the wheels.
Stephen has also upgraded the main parts of the drivetrain known to fail when power levels are increased. The clutch is now an Exedy sports organic clutch and the all too common transfer case failures have been sorted out by upgrading to an evo nine item.
Now moving onto one of the most stand out features of this car, the wheels. They are XXR 521's running 18×10 all round with the front rubbing a very aggressive 0 offset and the rear +17. To achieve the awesome fitment this car shows off. They have been painted in a unique lock of candy teal with a dash of lilac and blue pearl. Wrapped up tightly in Achillies 225/40/18 tyres to keep contact with the black top. Interior wise has been kept very basic with the main stand out being the nicely installed roll cage that really contrasts the whole car and is something that needs to be seen to be appreciated.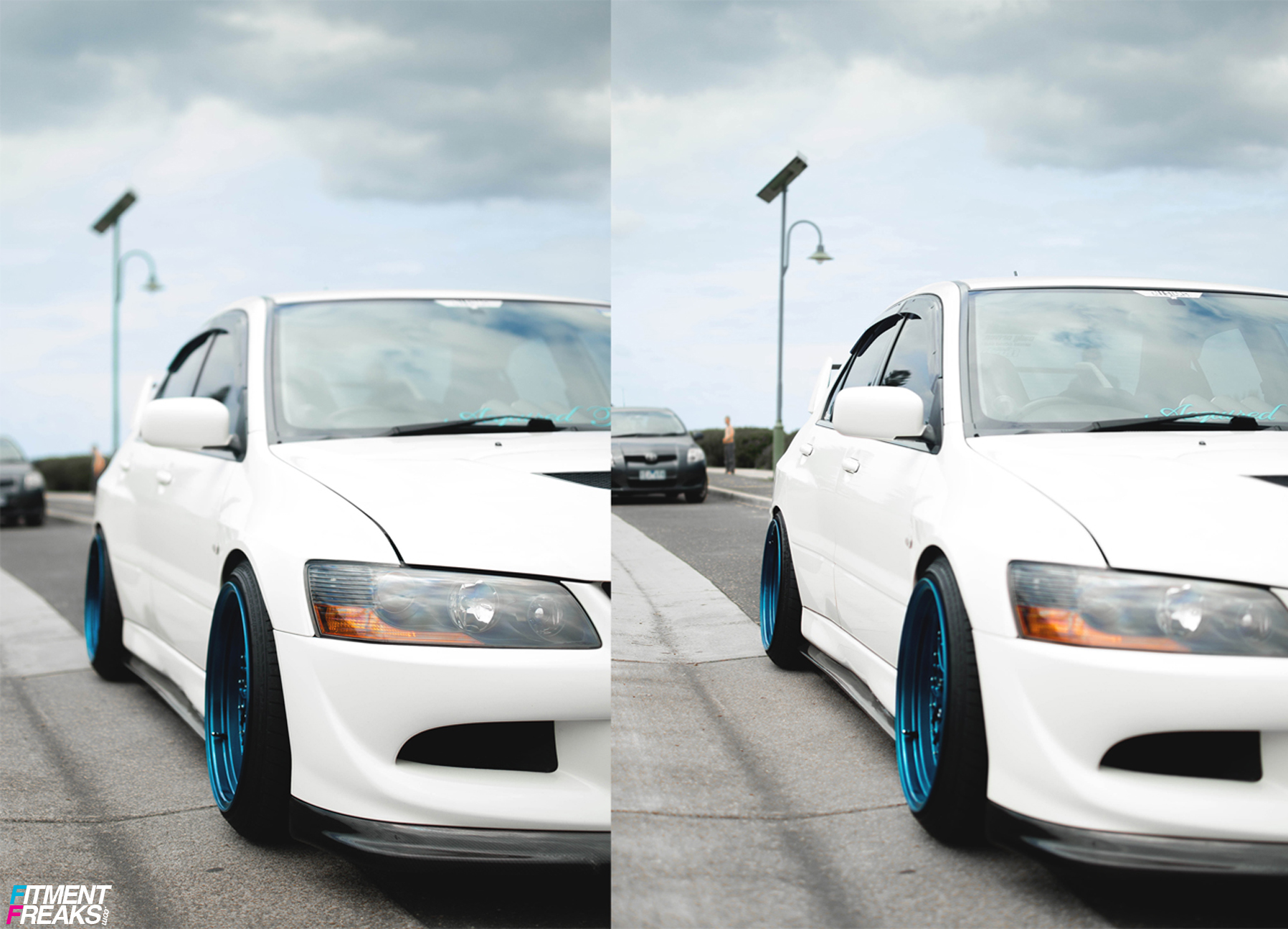 Future mods are camber arms and 25mm spacers in the rear.  As far as power, Stephen will be aiming for 300kW ATW.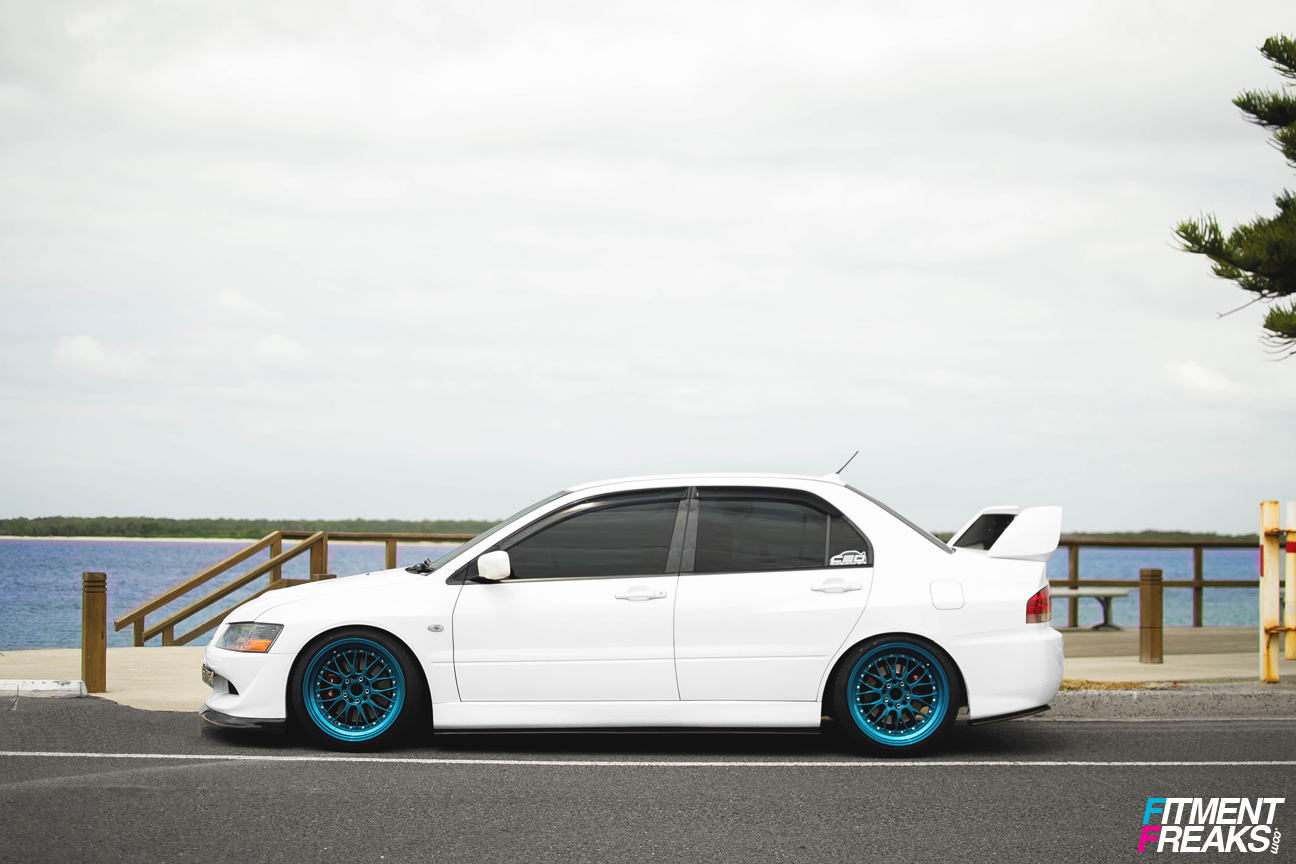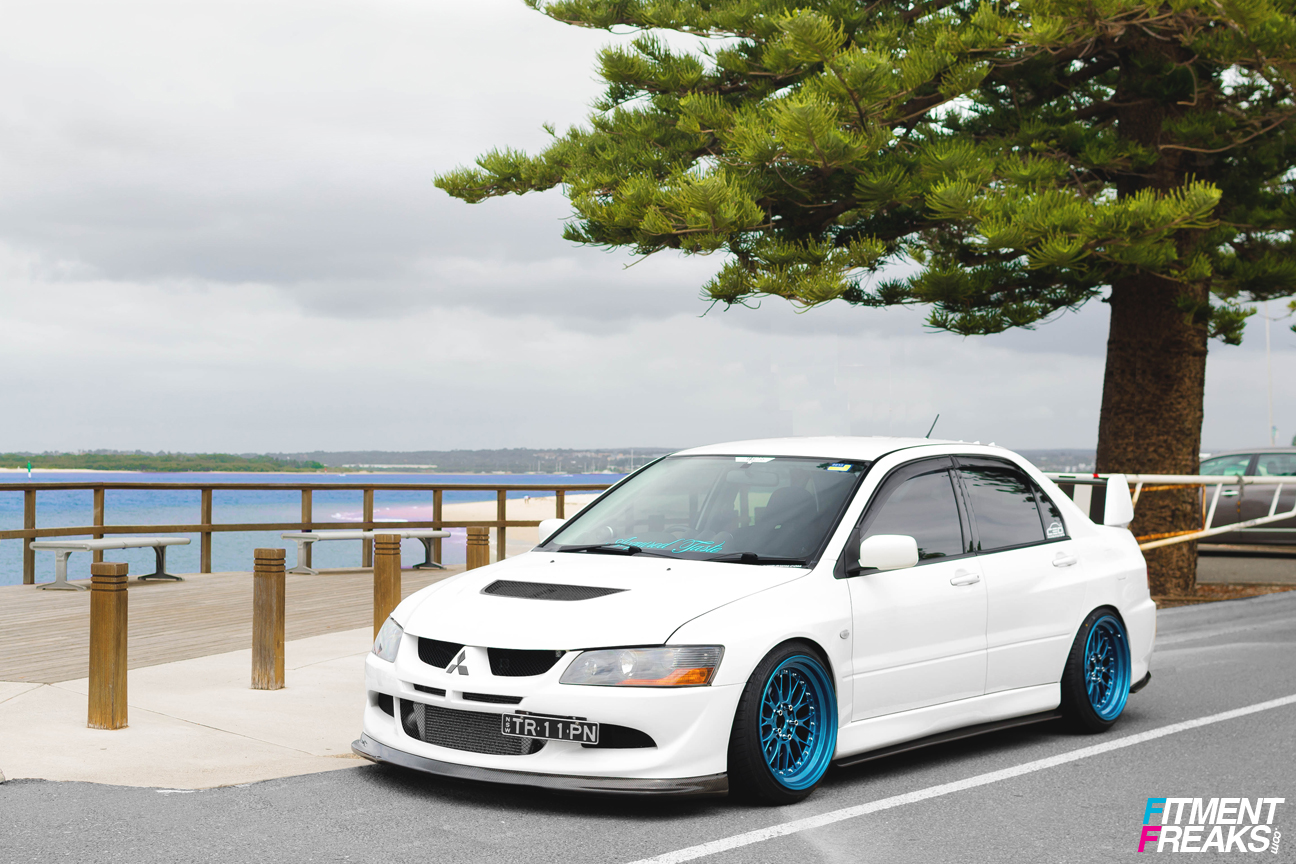 This car is the perfect example of how not all the mods make a car but rather the right mods.
"I would like to thank the Acquired Taste crew for the sleepless nights, Prestige Tyre Service, Heasmans, Basser at 2sus and everyone else who's helped me get my car to where it is today." – Stephen
Engine:
-Walbro 550hp in-tank fuel pump
-1000cc Delphi injectors
-Eboost street
-HKS ssqv blow off valve
-Trust dump pipe
-Trust front pipe
-Tomioka 100cell high flow cat
-3inch stainless steel cat-back
-Simota panel filter enclosed in carbon box
-Tuned on e85 making 240kW ATW
Drivetrain:
-Exedy sports organic HD clutch
-EvoIX transfer case
Suspension:
-BC racing gold series coilovers
-Aftermarket adjustable tie rod ends
Wheels & tyres:
-XXR 521 18×10 +0 front 18×10 +17 rear with 225/40 Achilles tyres
-Wheels painted custom candy teal with lilac and blue pearl
Exterior:
-Carbon fibre do-luck front lip
-Blacked out headlights
-Blacked out front and rear Mitsubishi badges
-Mitsubishi oem side visors
-Rexpeed carbon side skirts and rear pods
-White vortex generator
-Evo IX rear bar
-Evo 7 tail lights
-15% tints
Interior:
-Pioneer fold out head unit
-4x shadow gauges in dash pod
-Titanium gear knob
-1kg fire extinguisher
-Carbon steering wheel cover
-Roll Cage
Engine Bay:
-Carbon cam cover
-Carbon coil pack cover
-Carbon intake cover